Helmut Neuerburg - Commander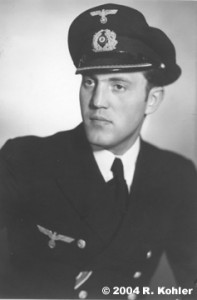 Helmuth August Neuerburg was born on August 25th, 1917 in the Village of Strasbourg as Martin and Elizabeth's Neuerburg's second child. His older brother Friedhelm had arrived two years earlier on November 9th, 1915. Their father Martin was a merchant by trade and died on November 11th, 1918 when Helmuth was only a year old. Elizabeth Neuerburg raised her two sons alone until she married Fritz Gunther in 1920. When Helmuth was seven years old his mother had a third son, his half brother Dieter Gunther.
As young boys Helmuth and his older brother Friedhelm had spoken of U boats, but were not impressed by the stories of the Great War's (W.W.I.) U boat hero's. They were quite aware of the U boats reputation as deathtraps. Through his youth Helmuth was quite musical, playing both the guitar and drums and having a natural talent with the violin. His artistic side leaned also to drawing and he was quite good at sketching humorous caricatures of the adults in his life.

Upon graduation of grammar school in Duisburg in December of 1935, Helmuth received his Arbitur, a requirement for higher learning in a university. Those close to him felt he may have gone on to study the arts, but he surprised them by joining the Kreigsmarine (Navy) as an officer cadet on January 1st, 1936. It has been suggested that he may have hoped to serve a few years in the Navy, then take his military earnings and apply it towards a higher education.
As a member of the class of 1936, (an officer cadet's class was determined by the year of entrance, not graduation), Helmuth went on to score high marks, doing best in Machinery and English. While a cadet his artistic side surfaced again. He formed a band and as his class graduation approached he composed a class song which was accepted. For this he received recognition by the then head of the Kreigsmarine, Admiral Erich Raeder.
With the completion of his studies he went to into the fledgling Naval Air arm to begin pilot training and temporary assignment to the Luftwaffe. By 1940 he was not only an officer, but was flying wartime reconnaissance missions over the North Sea near England. On one mission he actually brought his pet German Shepard along for the ride. During this period, his older brother Friedhelm had joined the Werhmacht (Army), and became a tanker in one of Germanys vaunted Panzer divisions. His younger half brother Dieter Gunther was a now member of the Hitler Youth. Germany had been at war for two years.
Around this time Helmuth had met Erna Mass, a bright and beautiful woman who caught his eye. It seemed at first an unlikely union. Erna was born in Weissenthurm near the Rhine. She had three brothers and one sister. Her father was co-owner of a brewery and her three brothers were all master brewers. Only her youngest brother was serving in the military against the family wishes. That was the problem. Erna and her family were anti military, and Helmuth was a Naval Officer. Despite this, they fell in love, and although her family wasn't pleased, they did not disapprove of the wedding. On January 30th, 1941 Erna and Helmuth were married and moved to Stralsund.
At home with Erna, Helmuth would play his American Jazz records, of which he had quite a passion and a large collection. His favorite jazz musician was Teddy Stauffer. Playing Jazz music was illegal in 1941 Germany, but so was listening to the BBC on the radio for wartime news. Regardless he listened to both. He took up smoking a pipe and sailing, and when he could he would sail about the harbors and bays of the Baltic in small rented cutters. When home he would put away his uniform, and go about town in civilian clothes, in which he was more comfortable. Soon Erna was pregnant and on July, 19th, 1941 their son Jurgen was born.
Through the summer and fall of 1941, Helmuth was still flying, but his duties had shifted from combat flying to those of an instructor, training the new naval pilots in ship identification and reconnaissance in safe areas behind the front. This new instructor position enabled him to come home often. Helmuth was home in December when news came over the radio of America's entry into the war. Hearing this he turned to Erna and said "we have lost this war already".

Although he was an exemplary officer, his personal feelings about National Socialism and the Nazi Party were far different then those his superiors might have expected. During visits with his brother Friedhelm, Helmuth would often complain that the Nazis and this war were "heralding the downfall of Germany". He went on to add that he found a particular Nazi official's beliefs regarding Anti Semitism as "appalling and sickening". Friedhelm feared for his younger brothers outspoken beliefs and warned him repeatedly that "the walls have ears" and "even the suggestion of such things can be the end of you". He went on to add that after this war he would "get rid of this skirt", a reference to the fact that he was no career officer.
As winter turned to spring Erna and Helmuth celebrated the birth of their second child, a daughter named Jutta, who was born on May 11th, 1942. Helmuth continued his duties as a flight training officer throughout the summer and fall and it wasn't until the beginning of 1943 that a major change was placed before him. Because the war was not going well for Germany, many members of the Naval Air arm were offered a choice; either officially join the Luftwaffe or go on to U boat training. As a pilot Helmuth would have gone directly into combat, but if he joined the U boats, he could spend a year or more in training. Helmuth choose the U boats in order to spend more time with his family.

His initial instructors in Naval (U boat) Engineering with the 2nd submarine training division gave him an overall "good" rating and found him to be "suitable for commander training" after spending 16 days at sea on training boats. His evaluation on July 3rd 1943 found that he was "a spirited officer" and of "irreproachable character". It goes on to add that "due to an interim assignment to the Luftwaffe, he is a bit susceptible to seasickness", but he is "an officer with above average talents and seems to be a suitable candidate to be a U boat Commander"
The training program for U boat officers lasted almost exactly a year and allowed Helmuth periods of time to be home with his family. During the summer he found time to go sailing on the Baltic, and on these trips he now started to bring young Jurgen with him. As the year came to a close, Helmuth received orders to report to the Deschimag Shipyard in Bremen. His class room and training boat work now completed, Helmuth was to take command of a brand new U boat under construction in that yard.
On January 26th 1944, Kaptainleutnant Helmuth Neuerburg officially commissioned the type IXC U boat U 869 into the Kreigsmarine. Although accepted into the fleet, the new captain and crew had many months ahead of training ahead putting in and out of various Baltic ports.
Kiel, Stettin, Swinemunde, Danzig and Gotenhafen were all temporary harbors to Helmuth and the men of U869 from February through November as the boat and its crew were repeatedly tested, updated and outfitted for the constantly changing Atlantic war.
In the summer of 1944 while berthed in Gotenhafen, Helmuth arranged for both his first and second officers to be sent ashore, and then held a party for the rest of the crew aboard the submarine. Hard liquor, beer and schnapps were served along with good food as music played from the boats loudspeakers. As the night wore on some of the crew had gotten quite drunk but Helmuth never drank a drop. He looked on and listened, and some of the crew felt that he was testing them, using the alcohol to peer inside their thoughts and loyalties.
On another occasion in Hela he brought the men ashore and marched them into the woods to a special barracks. When they arrived the men were served strong Stat beer and told to form a circle around their commander. Helmuth produced a guitar and spent the evening singing patriotic songs. The men were surprised not only by his talent and singing voice, but by this side of their captain. They had not known of his musical ability, and had previously had only seen the proper, strong and quiet leader who commanded respect and demanded excellence.
An incident involving the military salute further confused those who thought they knew or understood their commander. When one crewman gave Captain Neuerburg the "heil" or Nazi party salute, Helmuth lashed into the man and explained to the entire crew that only the traditional military salute, not the Nazi salute was to be used aboard U 869. When the crew tried to explain that a new order was in effect to use the Nazi salute only, he replied he did not care. The crew would use the traditional salute from that day on.
By the fall of 1944 the U 869 had completed all its training and modifications. The crew and boat were deemed ready for action and preparations were made for their first war patrol. At home Helmuth made his final entry into the "Baby Day Book" a baby journal that he and Erna had kept for Jurgen and Jutta on November 3rd 1944. He spent his off duty time riding a bicycle with Jurgen in a basket on the handlebars. The faster he pedaled the louder Jurgen squealed with laughter. At night he and Erna would sit and listen to music. Soon it was time to go. Erna noticed he had left behind his gold pocket watch that his father had given him. When she told him to take it, he told her to "hold on to it and count the minutes until I return home". In the last week of November 1944, Helmuth Neuerburg and the men of U 869 departed on their first war patrol.
Baby Day Book Entry (Last Entry by Helmuth Neuerburg)
Stettin
November 3rd 1944

Dear Jurgen,
Our little pet has become a real Jurgen, I mean a real rascal, whose head is full of every possible prank. In your very own way you assert yourself in this world and throw a huge tantrum if you don't get your way. Of course, now and then you get a little spank, after which you plan your revenge that is mostly directed at your poor little sister. Then you also want to smash houses and many other things. In spite of all that you are very forgiving and soon you forget your troubles again. Gradually, you are also becoming independent. The world of your nursery and yard are becoming too small for you, so that you often end up in places where you shouldn't be. Slowly but surely you are becoming
big Jurgen. When it becomes necessary to defend your self with fists, you can hit pretty hard and don't shy back from stronger opponents. Then you hit real hard with your little fists till your parents separate the fighting roosters.
At the moment you, mommy and Jutta are here with me in Stettin where my boat is being readied for departure. We are living at the Yacht club where the river Oder flows past right in front of the house and you can see a lot of ships. You especially like the shuttle boat that your daddy takes to work. You would like nothing more than to come along with me and then when you have to stay behind you scream. When daddy comes home from duty at night, mommy already waits by the water with you two little mud puppies to say hello. We can also sail here and then you love to work with the lines and use only technical terms. Your vocabulary is quite huge already and especially at night when you are supposed to go to sleep you tell us complete cock-and-bull stories so you can stay up longer. A few days ago, mean "Tommy" (English) dropped a lot of bombs and it was very loud. You were very quiet and you hid your little head under mommy's coat. Jutta used to laugh during explosions but she too was very still. It was a terrible night and as you said, many houses were destroyed. In our house too there was a terrible mess. Since then you don't like to sleep alone any more and you want to go nighty-night with mommy. Even you, my little rascal, are becoming a little aware of this terrible war.
Soon, daddy will have to go out to sea with his U-Boat and our most ardent hope is that we will all see each other again soon at home in good health and in peaceful times. Then hopefully you will again wait for me with mommy and Jutta and cry out in a happy voice. "Mommy, there comes daddy!"
May this time not be very far away. May a protecting hand keep you my dear ones from terrible things, protect and shield you till a sunny and carefree time reunites us again. Then the sun will shine again on you, my children, and especially on your parents who live only with and for you and indescribable happiness will make our life again worth living.
With much love,
Daddy
Default Gallery Type Template
This is the default gallery type template, located in:
/home3/rakohler/u869.com/wp-content/plugins/nextgen-gallery/products/photocrati_nextgen/modules/nextgen_gallery_display/templates/index.php.
If you're seeing this, it's because the gallery type you selected has not provided a template of it's own.