Franz Nedel - Seaman 1st Class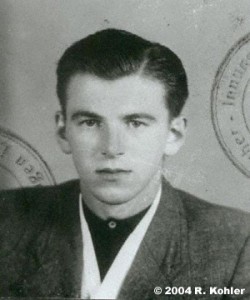 Franz Nedel was born on August 22nd 1924 in the city of Greifenhagen on der Oder in Pommern to Karl and Martha Nedel, nee Woerfel. Martha was born on 28 January 1899. His father was born in 1897. He was a quiet and easy going man. Karl was very proud of the birth of his son who was to be named "Horst". Each time when Karl set out to register the birth of his son at the City's registrar's office he would meet friends and acquaintances eager to celebrate the news with a few drinks. On the third day he finally made it to the Registrar's Office but somehow when he filled out the birth certificate "Horst" was changed to "Franz". His wife was not very happy about this.
Franz's father was a Master butcher by trade and self-employed. He had his own business, which he operated with his wife's help. She took care of their customers. The family rented a house that had living quarters above the butcher shop. Franz's father traveled with horse and buggy every week across the nearby country to purchase pigs and cows, which he then would slaughter at his shop. Franz was very independent and matured at a young age. At the age of five, his mother assigned him the task of safe keeping the money when he traveled with this father to purchase livestock. He wanted to be a Master butcher just like his father.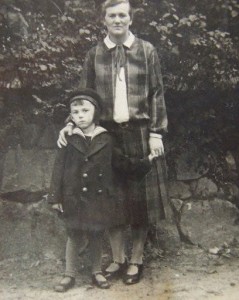 Franz was an only child which did not stop him from being a little prankster. He steered his little wooden wagon into the display window of a nearby shop. The glass in the window broke and the shopkeeper's sales lady ran to Franz's mother to report the incident immediately. She expected Franz to be punished right away. Franz's mother only response was "real boys occasionally break a window" and paid for the damage.
He started school early at the age of five. He attended grammar school in Greifenhagen. He was a member of the Marine Hitler Youth. He enjoyed the camaraderie and liked spending time with his friends. They had a good time and made short trips on a cutter on the Oder River. Franz had two older cousins who adored him. In the summertime they would take him along to the public swimming pool. He enjoyed swimming and being in the water. Franz had a talent for music. He played accordion und played every song by ear. He played for friends and family, at weddings, confirmations and holy communions, simply because he enjoyed it.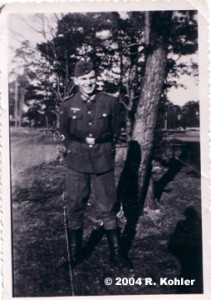 After he finished school in Greifenhagen he started a three-year apprenticeship to become a butcher. He started on April 1st 1938 and ended April 1st 1941. This training took place in Marwitz in Pommern under the supervision of Master butcher Franz Radloff. On April 7th 1941 Franz passed his final exam. He found work right away in Stettin with Master butcher Kunibert Riebe. He worked there from April 15th 1941 until July 25th 1942. In the spring of 1940 he met Gisela Taeubrich. She worked on her grandparent's farm in Marwitz. She had to complete the mandatory "Landjahr", working in the country, on a farm. Franz liked Gisela right away and soon Gisela fell in love with him. His eyes were as blue as violets, his hair was black and he laughed a lot. Gisela met Franz's mother and both liked each other right away.
Franz also loved the Sea and joined the Marine (Navy) in the fall of 1942. His training started in Liebau in Lettland with the marine artillery. He then switched over to the U-boats. He completed several training sessions in different ports and cities and was transferred to U-869 and the command of Kpltn. Neuerburg in April 1944. At that time the boat was at the shipyard in Stettin. He spent his free time with Gisela and his crewmates from U 869. Franz played the accordion and Gisela sang. His favorite song was "Come back, I am waiting for you, you are all my happiness".
Franz and Gisela celebrated their engagement in June 1944 in Greifenhagen with Franz's mother. His father was not present. He was away in the war, fighting in Russia. Franz's and Gisela's big celebration included their friends and almost the entire crew of U-869. The wedding was planned for Easter in April 1945. Gisela's aunt had already obtained the white silk for her wedding dress. Franz wanted to wear his white Marine dress uniform. The ceremony was to take place in the church in Greifenhagen.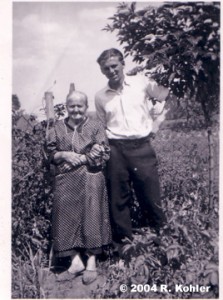 In November 1944 Franz left with U 869 to Kristiansund in Norway and was to continue on his first war patrol from which it did not return. He now shares a sailor's grave with his 55 comrades off New Jersey in the United States of America.
Franz Nedel was a good man with impeccable character. He was sensitive, eager to help and a true friend to his comrades.
Franz was my one and only true love and he will live on forever in my heart.
signed
Gisela Engelmann, nee Taeubrich
Berlin, March 2004