Hans Dietz, Fireman 3rd Class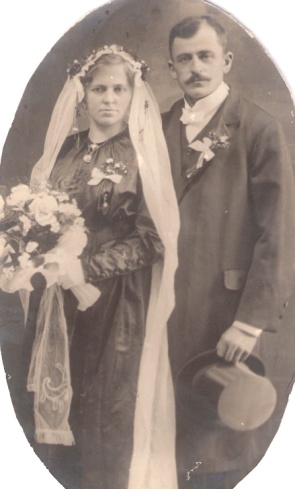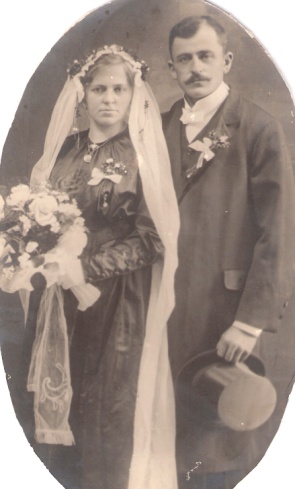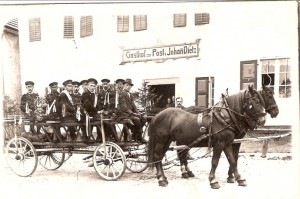 Johann (Hans) was born as the second child and first son of master brewer Johann Dietz and his spouse Katharina on 17 May 1925 in Painten (Oberpfalz, Bavaria). The father had to give up his patrimony, the inn "Zur Post" when Hans was one year old. The family moved to the nearby village of Laaber, and in 1931 on to the market town of Essing in the Altmühl valley (Lower Bavaria), where Johann sen. was appointed Chief Brewmaster of the Schneider Brewery that still exists to this day.
In April 1931 Hans started elementary school. He was a little rascal, but a good student, and his practical and technical talent showed from early on. He loved to romp around with his friends on the rocks and in the caves of scenic Essing, and to head dive from the old wooden bridge. As a teenager he built a twoseater bobsled with an enormous steering wheel. Hans and his four year younger brother Rudi used to race down the Klausen-berg" across the river. They both were the heroes of winter among the town's kids and youths.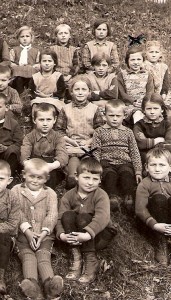 After school graduation in May 1939 Hans started an apprenticeship as a mechanic at the "Süddeutsche Zell-wolle AG" (today Kelheim Fibres GmbH) in the county town of Kelheim/Danube. Three months later already, on 31 August, literally the eve of World War II, his father died at age fifty from an accident at work. He left behind his wife with five children, Hans being fatherless as a fourteen-year-old. The eldest daughter Anna – barely seventeen – didn't have an easy time with her three buoyant brothers and her younger sister when she had to back up mother at home, who was now forced to work part time for the family's living at the brewery.
After having successfully passed his journeyman's exam, seventeen-year-old Hans volunteered for the Navy in May 1942. To some extent he probably took Anna's financé Sepp Wallner as a role model, who in 1940 had been the first one ever from Essing to join the blue service. In any case Hans' decision was tough for his mother who eventually had yielded to her son's stubbornness and signed the necessary declaration of consent for the minor. Hans started basic training at Leer (East Frisia). Thereafter he was transferred to the "Uboot-Waffe" and underwent that service's special training for technical personnel.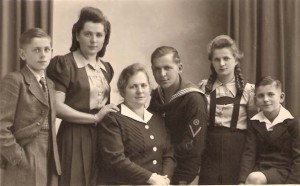 From the very beginning at the Bremen Deschimag Shipyard in 1943, he was a crew member of U-869. The engraving on the plaque under the U-boat model that he had manufactured at the yard for his be-loved mother reads: "To the memory of your son Hans 1943". On his summer leave in 1943 he brought the artwork to Essing. Proud of their handsome sailor and dressed in their sunday's best the family took the postal bus to the photographer in Kelheim. To this day, the spitshined model has its place of honor in the house of now 83-year-old brother Rudi (photo 1st from left).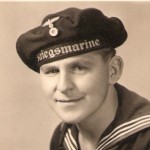 Hans took part in the commissioning ceremony in January 1944 and as a technical crew mem-ber sailed with the boat throughout the year during the subsequent run-in and training phase. When U-869 was docked for a final refit at the Oderwerke yard in Stettin, sister Anna came for a visit in August 1944. After her veritable odyssey through the bombed father-land to the coast she was happy to find her brother in good health and full of optimism. He was not allowed to show her around on board since the boat was strictly off limits for women. But when she spotted the grey monster at pierside, she didn't feel like seeing more of it anyway. Then she was in a hurry, since her sweet-heart, promoted to Petty Officer 1st Class in the meantime, was stationed as an instructor at nearby Ückeritz on the island of Usedom.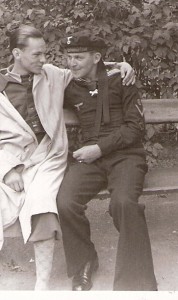 In the fall, Hans came for his last home leave to stay a couple of days (photo right with a friend). Then, on 7 November, U-869 sailed from Stettin via Kiel to Kristiansand in Norway and from there was outward bound for her first and last war patrol. Mother Katharina died in June 1969 in the firm belief that her son was sunk with U-869 off Casablan-ca on 28 February 1945 – as it is engraved on the family's tombstone. When in 1999 Rudi heard for the first time from this author about the outstanding achievement of the American divers around John Chatterton and Richard Kohler off New Jersey, and also saw the TV documentary in 2000, he got into contact with the only surviving crew member, Herbert Guschewski, and paid him a visit in Memmingen.
Herbert Guschewski wrote to this author in November 1999: "Your uncle Johann Dietz was popular among the crew and respected by his superiors. When I look at the photograph, I feel like Johann is standing right in front of me. We called him Hans or Hannes, since he was from Bavaria… When on Memorial Day I hear the song "vom guten Kameraden", I always feel so forsaken, since all my comrades have fall-en..."
February 2012
Raimund Wallner
Captain German Navy (ret)